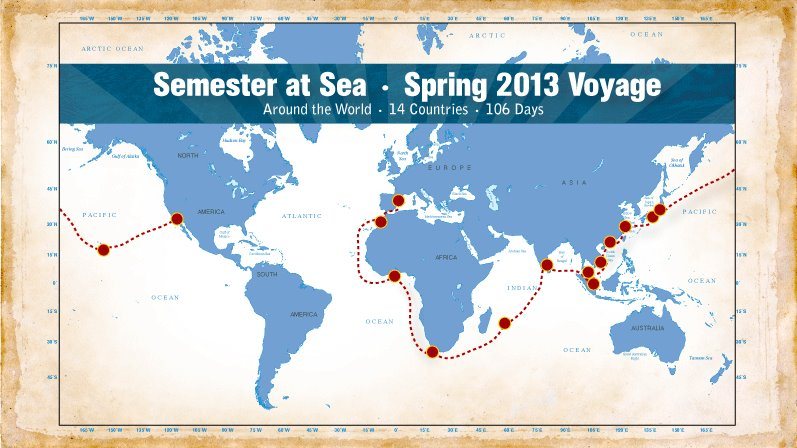 In the spring of 2013, I circumnavigated the world on a ship with 600 college students, nine social- and tech startups, mentors including Tom Chi of Google X and Jeff Hoffman of Priceline, sponsors including SAP and Microsoft, and Nobel Prize Laureate Desmond Tutu. Semester At Sea, the only program of its kind, enables students to study on a floating university and travel to up to 13 countries in one semester. Semester At Sea's vision is to be the leader in comparative global education, and its mission is to
educate students with the global understanding necessary to address the challenges of our interdependent world. With the world as our classroom, our unique shipboard program integrates multiple-country study, interdisciplinary coursework, and hands-on field experiences for meaningful engagement in the global community.
Thanks to the program's global comparative approach, students get to compare and contrast different countries. It also offers the unique combination of studying abroad and traveling at the same time.
My Semester At Sea voyage was unique because of Unreasonable At Sea, a floating Accelerator and first program of its kind that helped the participating startups explore new markets and scale their ventures. Here is a video that explains it all:

I am writing a series of articles about Unreasonable At Sea. You can also find these articles on this website.
This video gives you an idea of what my voyage was like.